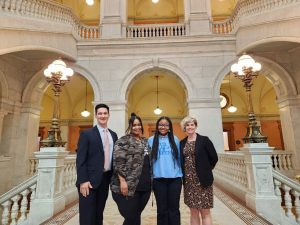 Seventh grader Kinzley Coney doesn't like to speak in front of a crowd. But on March 16 she traveled to Columbus, Ohio, to share her personal educational journey with the Ohio House of Representatives during a meeting of the Finance Subcommittee on Primary & Secondary Education. Kinzley was accompanied by her mother, Andrea Coney, and Brett Marcoux, President of Springer School and Center. Kinzley's English teacher, Emily Kimble, helped her prepare for her testimony and was present for moral support.
The group testified individually in regard to House Bill 33, which establishes operating appropriations for the 2024-2025 fiscal years. Marcoux spoke on behalf of Ohio's three accredited, independent schools for children who struggle with learning, such as dyslexia and ADHD: Springer School and Center, Marburn Academy and Lawrence School. Marcoux praised the Jon Peterson Special Needs Scholarship and requested funding for its six categories be increased to remain on par with another special education scholarship which received an increase during the last biennial budget. Marcoux, Andrea Coney and Kinzley testified to demonstrate to representatives the very urgent and real need for students with learning challenges to receive specialized education. Marcoux states, "What makes schools like ours different from other private independent schools is that families come to us not by choice, but by necessity."
The most powerful case was made by Andrea Coney and her daughter, Kinzley, who struggled for five years before making a school change. She says, "There were too many kids in a class and completing her homework at night took hours to finish. She was lost in the crowd with literally no help in sight from her school." Andrea Coney spoke to the difference that the Jon Peterson Scholarship has made for her daughter, in that it allowed her to begin schooling at Springer, the only school in Greater Cincinnati suited to meeting her educational needs.
I was able to get on the path of finding a school that would teach to her needs, and not around it. Springer has been an answer to our prayers. Their methods of education has transformed her in reaching those A's and B's. However the cost of an education to meet my child's needs can sometimes be too much … As a single income household, it's even more challenging.
Kinsey spoke with a poise that impressed Finance Chair Tracy Richardson who commented that she "didn't seem to have any struggle at all" talking to the group. Kinsey referenced the difference between her old school where "it was extremely hard to focus because of how much was running through my head," adding, "if you weren't getting the concept of something the teachers would just let you fall behind." Kinsey and her mother both referenced Springer's small class sizes and teaching methods as contributing factors to success. Kinsey shared this story:
One time in 6th grade math class I was struggling with my long division and I was really stressed about it … one of my teachers came up and walked me through the whole process, because they saw my struggles and stepped in to help. I am grateful to have teachers that care and take the time to teach and help me. Springer has taught me to advocate for help, use my math strategies, and to help others when they are struggling.
Kimble reflects on her student's speech, noting, "Her statement was a powerful testimony to her confidence and growth." Transcripts of the testimonies and video of the full session are available online at https://ohiochannel.org/video/ohio-house-finance-subcommittee-on-primary-and-secondary-education-3-16-2023. Testimony from Brett Marcoux begins at 2:32:35 followed by Andrea Coney and Kinzley Coney.