The webinar was presented by Ms. Terry Matlin, LMSW, ACSW. She is a psychotherapist, author, mother of a daughter with ADHD, and she has ADHD herself. Like Terry, I have a son and other family members with ADHD. As I learn more about my son's struggles and accomplishments, I also learn more about myself. Many of us parents often see our qualities in our children.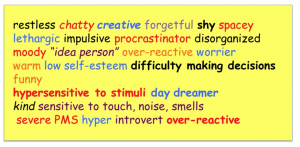 Terry validated my own encounters as a mother when she explained some of the characteristics and special issues moms with ADHD may face. Characteristics such as restlessness, chattiness, disorganization, severe PMS, over-reactivity, and low self-esteem were certainly on my radar recently. These are characteristics I have always felt, and they became more intense and apparent to me as I became a mother, and even more so when I hit the big 4-0, and ahem, as I head into my mid-forties.
Ms. Matlin spoke of what she calls "Special Issues," which are societal expectations – things like thinking you have to do it all, and the overwhelming feeling of balancing life, family, and work. The feeling of being overwhelmed can be crippling for me at times. Social media has brought that anxiety even further to the forefront with posts and photos about homemade baked goods, three-course meals with the family, and organized storage for the pantry or laundry room. That all sounds amazing, and I sometimes wonder, if the camera panned out from that perfect plate of goodies, would we see a kitchen in shambles? Flour everywhere, every bowl and utensil used to create this masterpiece? The chef's face smattered with ingredients, and even more likely, a glass of wine half empty in the corner? Now that's more like it!